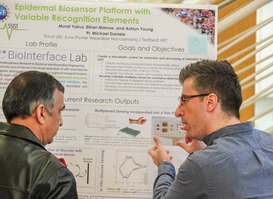 ASSIST is pleased to recognize two of their graduate students as winners of the annual ECE GSA Research Symposium. Winning in first place was Murat Yokus, a doctoral student in the BioInterface Lab and second place was Michael Wilkins, ASSIST Student Leadership Council President and doctoral student in the BioInterface lab. Both students are advised by Dr. Michael Daniele, a member of ASSIST faculty.
The ECE Graduate Student Association at NC State University held their annual ECE Research Symposium on January 26th, 2018 at the Atrium of Engineering Building II. The panel consisted of ECE faculty and corporate partners, Sealed Air, Sensus and Lumeova. ECE students were able to present their project and receive feedback from judges and their peers.
First place winner, Murat Yokus (top), presents his poster tilted Epidermal Biosensor Platform with Variable Recognition Elements. Yokus focus is towards the development of an epidermal biosensor platform for interstitial fluid extraction and multiplex measurement of biomarkers. This application gives rise to a wide range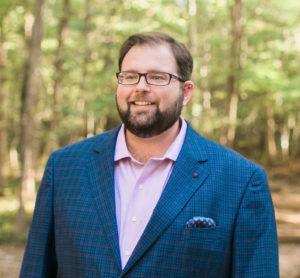 of applications such as diabetes management, cardiovascular monitoring, and athletic performance monitoring. Michael Wilkins (bottom picture) presented to the judges his poster entitled, Multiplexed Cardiac Biomarker Assays.
The ASSIST Center congratulates both winners for their continuous hard work and dedication! If you would like to learn more about ASSIST click here. Are you interested in our undergraduate programs? Click here to learn more about opportunities for students in engineering programs.