This article was originally published here.
On the second floor of James B. Hunt Jr. Library, as college students studied for finals below, 16 teams of high school and middle school students prepared to present their wearable devices to a panel of judges.
The annual Wearable Device Challenge is in its eighth year at NC State, with one year off for the pandemic in 2020. Put on by the ASSIST Center, students are tasked with developing wearable health monitoring devices for humans or animals.
ASSIST (the Center for Advanced Self-Powered Systems of Integrated Sensors and Technologies) is led by NC State and began as a National Science Foundation Engineering Research Center in 2012. ASSIST is developing wearable or implantable health-care monitoring systems that are powered by the human body.
As this year's competition began, Elena Veety, assistant teaching professor of electrical and computer engineering and education director & operations manager for ASSIST, welcomed the students.
"Everybody ready?" she asked, to a smattering of nervous applause. "Good luck everyone, and let's go."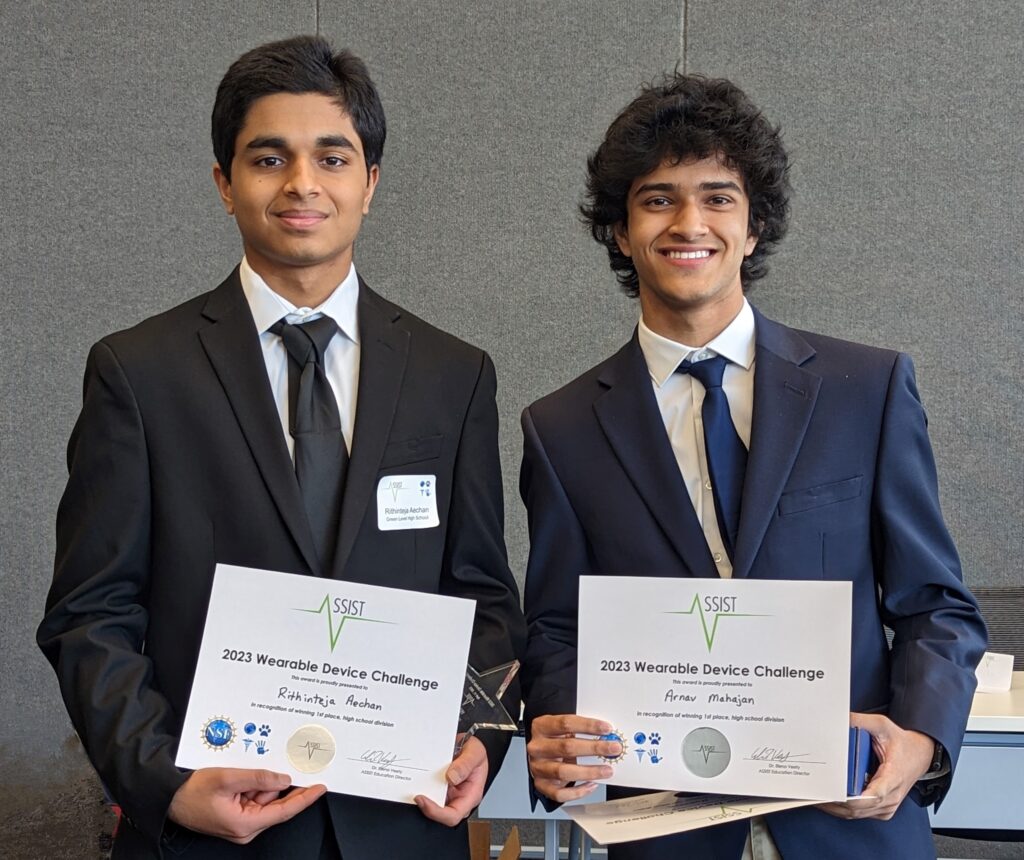 Judges stopped at various tables, each topped with a poster board explaining the team's project and their devices ready to demonstrate. Students came from all over the state, with the furthest groups coming from Winston-Salem.
Teachers picked students and registered them for the competition in advance, or else some schools had a preliminary design challenge of their own to determine who got to come. From Raleigh, Team WAED, which stands for Wearable Automated External Defibrillator, created a device to analyze heart rhythm and provide shock during CPR.
According to the American Heart Association, 350,000 people experience cardiac arrest every year. For every minute AED is delayed during CPR, the chances of survival go down ten percent.
"This is why we created a wearable AED," said Anusha Gupta, a student at Enloe Magnet High School. "It's more accessible for people at high risk."
Another team from Wake STEM Early College High School in Raleigh created a mask that would track symptoms of the avian flu.
"It presents in both birds and humans, so what we made is a face mask that will be able to track flu-like symptoms," said Julian Fernandez, a student at Wake STEM. "We started with a flex sensor, which goes where your mouth is, so it can track your breathing. If there's any abrupt coughing or a lack of breathing, it can track that.
"Then, of course, we have a temperature sensor, and then our FSR (Force Sensing Resistor) pressure sensor is our stand out. Whenever your eyes begin to swell, it would press down on that pressure sensor and it would give you an output to track it."
"We would mass produce it and then outreach to farmers," added Everett Jenson, one of Fernandez's partners. "They're already required to wear masks, so this is just a mask you can wear that tracks symptoms and lets them make sure to quarantine."
Other students wanted to focus on making mental health struggles more manageable.
"A lot of things can produce anxiety and anxiety has many symptoms, like increased heart rate, heart palpitations and tremors," said Thalia Dominguez Martinez, a student also from Wake STEM. "Anxiety is completely normal, but it can get to a place where it builds and causes disruptions. That's where INO Wave comes in."
INO Wave, named for Queen Ino in Greek mythology, is worn like a sleeve. Users put it on any finger except the thumb, since, as Dominguez Martinez pointed out, the thumb has its own pulse.
"Once a certain threshold is met, a buzzer will sound to tell the user they may need to step back or may be experiencing a panic attack," said Alice Ko, another member of the INO Wave team. During the planning stages, Ko tested the device on herself by running in place and waving her arms to mimic symptoms of anxiety.
"In the future, we hope we can use solar power instead of having to connect it to our computers," Ko said. "We hope to make it into a glove and we hope the buzzer doesn't beep at you. It would play calming music."
On the far end of the room, the middle school teams presented their projects as well. Alyssa Thomas and Leia Finley from Zebulon Middle School created a sensor to keep blind dogs from running into objects.
"I was reading a survey about how blind dogs live and when I was talking to my family about it, I found out one of my cousins has a blind dog," said Thomas. "She kept running into stuff, so I wanted to make something that would prevent that in the future."
"Right now, it's connected to my computer as a power source," added Finley. "You put in the distance through the programing and the sensor will detect something if it's in the way. It will light up. We want to program it so that it will buzz or vibrate."
Of the eight middle school teams, Hanes Magnet School (Winston-Salem) came in first, Grace Christian School (Cary) in second, and Hobbton Middle School (Newton Grove) in third.
Of the high school teams, Green Level High School (Cary) came in first, Enloe High School (Raleigh) in second, and Wake STEM in third. The Wake STEM team that won was the team that created the INO Wave.
Ren Shore, communications and events coordinator for ASSIST, emphasized how impressed the judges were with all 16 projects. Only .1 point separated two teams from their final placements, which Shore says showed how strong the competition really was.
"Everybody's at varying degrees of experience," she said. "But we take any team with a good idea and an innovative solution who wants to come."