Please join us in congratulating the winners of this year's Wearable Device Challenge! Despite the unprecedented circumstances, these teams put forth outstanding project submissions for our virtual competition. Thank you all for your hard work and congratulations!
First Place: SALUS from North Raleigh Classical School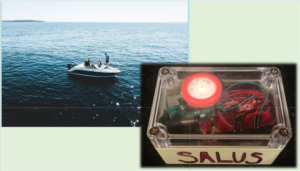 Motivated by a team member's own experience with Carbon Monoxide (CO) poisoning during recreational boating activities, this team developed a life-jacket-worn detector that continuously monitors the wearer's immediate environment and alerts of unsafe levels of CO.
Second Place: Mosquito Stoppers from Ligon Middle School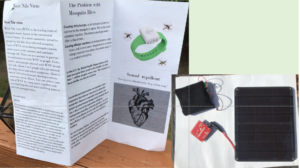 This group of students addressed the One Health Initiative by tackling the challenge of mosquito borne disease. They designed a solar-powered, sound-based, mosquito repellant device worn on the wrist.
About this year's Wearable Device Challenge
The 6th annual Wearable Device Challenge (WDC) hosted at NC State University, once again challenged teams of students to: "Design and build a wearable device to address an issue at the intersection of human, animal, and environmental health". Teams are required to submit a poster detailing their engineering design process, an advertising campaign, as well as a prototype of their wearable device. Due to COVID19, we were unable to host this year's final competition in person. However, students continued to work hard on their projects despite these unprecedented circumstances and we were able to host the competition as a virtual event instead!
We would like to extend a special thank you to all of the teachers and students who worked on WDC projects this year. We understand that the current situation made it very difficult for many of you to complete projects, we thank you for all of your efforts, and we look forward to hosting you again in person in the Spring of 2021! Thank you also to our ASSIST colleagues for volunteering their time to judge the competition entries.
The WDC highlights ASSIST's educational outreach programs and is one of our most popular events, bringing over 100 students and their teachers to our competition every year. The competition is open to both middle and high school students and resources are available to support and train teachers in mentoring the teams. If you are interested in coaching a team, or want more information, please contact ASSIST's education director or visit our website.