As summer is coming to an end, so is our Summer REU (research experience for undergraduates) program. In the beginning, we met with Jaylan Fraser-Mines, an upcoming Junior from Williams College majoring in chemistry. Jaylan was especially eager to learn more about textile chemistry and worked in Dr. Jur's lab. She specifically wanted to focus on measuring the sustainability of smart devices.
During her week, she would help Braden Li, a Ph.D. student in Dr. Jur's lab and the young scholars measure movement on ECG shirts with various materials. Using that data along with her own research, she would then calculate how much energy was used. Regarding Jaylan's goal to measure sustainability, substituting different shirt materials didn't actually make a whole lot of a difference.
"Trying to recover silver turned out to be harder than expected."

Jaylan Fraser-Mines
Silver ink, i.e. silver chlorides, is the preferred ink to press electrodes onto the ECG garment. However, on a large scale, recovering these silver chlorides would be good due to the negative environmental impact of silver mining. Therefore, "subbing different materials could make a difference after all, especially if mass-produced. For example, using corn-based materials could also be in the future of the textiles industry," states Jaylan.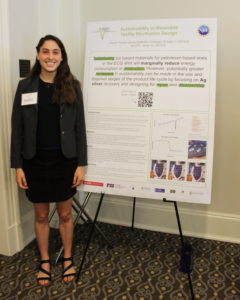 As Jaylan goes back to Massachusetts to finish up her undergraduate degree, she now feels more confident conducting her own research and feels prepared to write and present a thesis as her senior project next year.
In the long-term, "I wasn't sure if grad school is something I wanted to do in the future," admits Jaylan. However, after interacting and working with graduate students, the thought of pursuing graduate school is something she now seriously considers.
Overall, Jaylan was positively surprised by how interdisciplinary ASSIST is. While there are many labs working under the ASSIST umbrella, they each work on very different research projects. "Talking to other REU students about their projects was very cool and I've learned something new for sure."
Jaylan's final take-away for anyone who is considering applying to ASSIST's Summer REU program next year but is not 100% sold on it yet:
"Challenge yourself! Participating in this program is a good way to find out if you like to do research. Plus, you'll meet new people and experience a different school!"

Jaylan Fraser-Mines