This blog is written by Erik Schettig (teacher in the RET program) and Dylan Overton (student in the young scholars program) and is part of their program activities.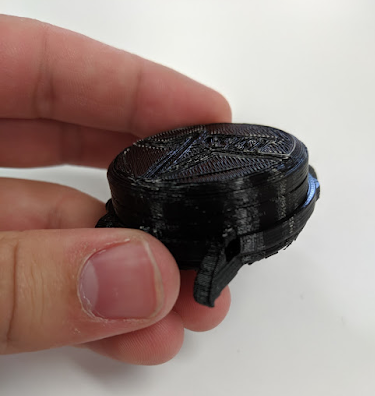 Over the past week, teachers participating in the RET program and students partaking in the young scholars program have gained experience in researching and introducing themselves to 3D printed wearable devices. One such project gathers data on environmental conditions such as ozone level, volatile organic compounds, and temperature. The device then compares those readings to data collected from a wearer which measures breathing and heart rate. With that information, correlations can show an environment's impact on an individual's asthma condition.
These sensors are housed in a 3D printed case that goes around the wrist and a chest patch worn by the user. This week, the student-teacher team set up a 3D printer in the ASSIST lab. They applied tests to make sure it can print the cases which will house equipment during testing. Printing went well but improvements were identified. For example, the bottom portion of the watch case and its sending areas need resizing. This is crucial to ensure a secure fit for the circuit board containing the electronics.
Next week, the team will sand and fit previously printed cases with sensors to start collecting data.