This article was originally posted here. Dr. David Peden has been the Medical Advisor for the ASSIST Center since it was founded in 2012.
David Peden, MD, past president of the American Academy of Allergy, Asthma & Immunology, will serve as the academy's first editor-in-chief of The Journal of Allergy and Clinical Immunology: Global.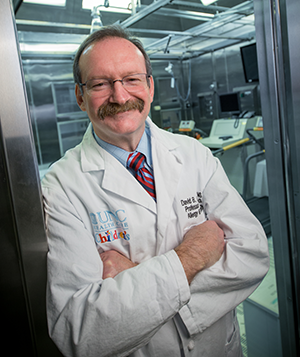 David Peden, MD, the Harry S. Andrews Professor of Pediatrics, Medicine and Microbiology and Immunology at the UNC School of Medicine, and member of the UNC Children's Research Center, was named the inaugural editor of The Journal of Allergy and Clinical Immunology: Global (JACI: Global), a new open-access publication from the American Academy of Allergy, Asthma & Immunology (AAAAI).
Peden, who also serves as Senior Associate Dean for Translational Research, division chief of Pediatric Allergy, Immunology and Rheumatology, and associate director for the Center for Environmental Medicine, Asthma & Lung Biology at the UNC School of Medicine, will serve a 5-year term. He also holds secondary appointments in the UNC Departments of Epidemiology and Environmental Science & Engineering at the UNC Gillings School of Global Public Health.
JACI: Global will provide authors who are mandated to publish in a fully open access journal or whose work is not suitable for existing AAAAI journals, the opportunity to publish in a journal that will reach not only the AAAAI community, but the global community, with no barrier to access for anyone with an internet connection.
Peden's team at the journal will begin soliciting manuscripts in September, with the first issue of JACI: Global expected to be published online in February 2022.
"I am very excited to have been given this opportunity to serve as Editor-in-Chief of JACI: Global," said Peden, who served as AAAAI President in 2017-18. "The AAAAI has been central to my career and I am thrilled to serve in this capacity. JACI and JACI: In Practice are stellar publications and are critically important to our research and practice communities. However, these journals are very focused on clinical and human translational research, and need to be very selective regarding which papers are accepted for publication. This means that many very good studies conducted by A/I investigators are not published in an AAAAI journal. This includes those using basic science approaches, translational studies in early or developmental stages of research or in areas of interest which have a focused audience. A major goal for JACI: Global is to provide a publication forum for this very important research."
Peden added that another important feature of JACI: Global is the commitment to Gold Open Access. This commitment will be of service to authors funded by agencies which require such open access as a condition of their funding. Additionally, we hope to provide a venue for international authors committed to A/I who provide important insights into regional A/I standards of care."
Read the full AAAAI announcement from Mary Beth Fasano, immediate past president of the academy.