One of the main goals of the ASSIST Center is to train the next generation of scientists and engineers to be innovative leaders in either industry or academia by providing educational programs and resources from middle school through graduate studies.
One of our core educational outreach programs is the Young Scholars program aimed at high school and middle school students interested in engineering. Usually, we select up to four students to participate in our six-week long summer program which enables participants to experience life on campus, tour various labs, and interact with current ASSIST students, faculty, and staff.
Unfortunately, due to COVID-19, we were unable to host students on campus; nevertheless, we did offer a two-week virtual young scholars program. Our ten participants all received a $500 stipend and a kit containing a variety of sensors, electronics, and Arduino boards to work on their projects. Education Director, Dr. Elena Veety, and Pre-College Education Liaisons, Evelyn Baldwin, and James Lamberth developed an interactive online course via Moodle, which included daily face-to-face activities as well as projects and assignments for students to complete independently. Students learned and practiced skills related to engineering design thinking, communication, research, circuit design, rapid prototyping, Arduino programming, sensors, and energy harvesting. Over the two weeks, students applied the Engineering Design Process towards the challenge of designing and building their wearable device to address an issue at the intersection of human, animal, and environmental health.
The two-week program ended with a virtual research symposium on July 28. Students were asked to summarize their research, and in place of a live demo, showed a video of their working device.
Meet the Students and Their Final Projects
Siya Yeolekar created a conductive thread shirt for cyclists that uses LEDs to display turn and/or warning signals. Her project is aimed at the prevention of bike accidents.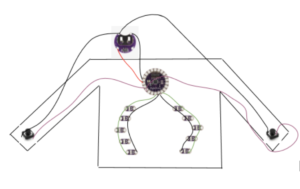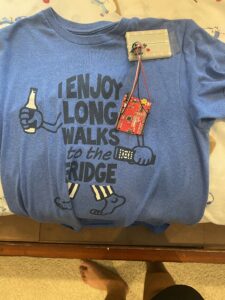 Rohit Singh designed a sensor to protect farmers from nitrogen poisoning caused by fertilizer runoff in the air to create a healthy atmosphere around farms and plantations.
Alexandra Rasey's "super safety glasses" protect outside workers (such as construction workers) from extreme heat and temperatures. Her device used a temperature sensor and alerted the user through a and buzzer when a certain temperature threshold was met.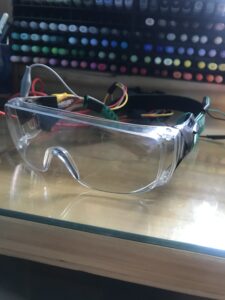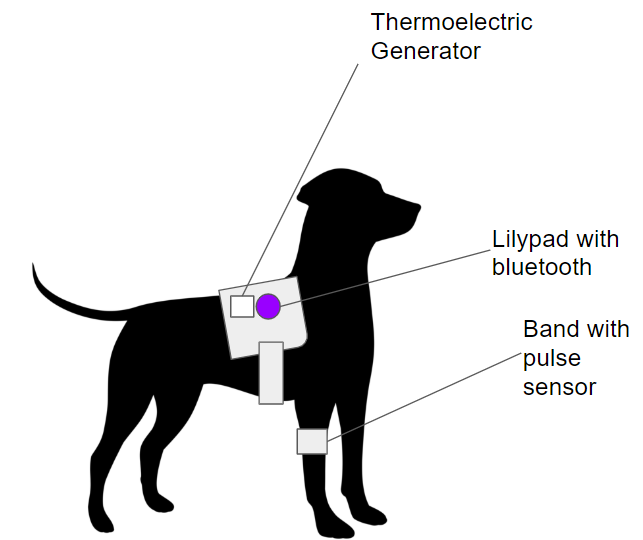 Ryan Kelley 's project tries to detect diseases in dog shelters by creating a dog health tracker. This tracker monitors both the heart rate as well as a dog's pulse to detect any illness. Using a Lilypad with Bluetooth, the data can be sent to the main computer that shelter employees can access.
Emily Wang focused her work on a heat stress detecting wristband. Her device measures the pulse and has two temperature sensors (an ambient sensor and a body temperature sensor). An LED light alert system signals the level of the skin temperature and tells the user when it is time to get out of the sun/heat.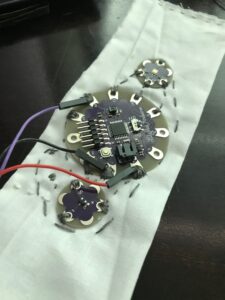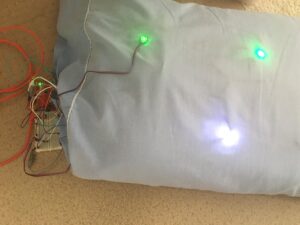 Suchir Madap created an iPillow Case that monitors sleep. Since sleep deprivation is a real problem and affects 50 – 70 million Americans, he created a smart pillowcase that measures a user's pulse, heart rate, and movement. In the future, the hopes to use a TEG to make itself sustainable, connect it to an app, and improve sensor readings.
Luke Matheny focused his research on animals as he wants to make cattle as efficient as possible. Therefore, he created a bracelet and collar to measure a cow's food intake, body temperature, and movement.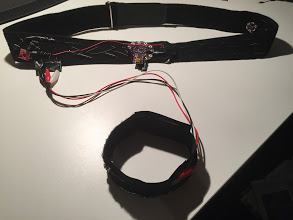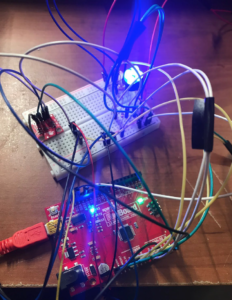 Luke Wu's research focused on remote sensing pathogens. His device tries to remotely detect pathogens through a UV Light sensor, RGB light sensor, Lilypad light sensor (control variable), and a photocell (internal control).
Mukul Mohan created a smart band to alter medical professionals about accidents. By measuring pulse, temperature, and movement, basic illnesses such as falls or crashers, hypothermia, hyperthermia, bradycardia, tachycardia can be detected. Using such a smart band as preventative medicine can immensely help hospitals by sending data for routine check-ups to your doctor which gives the doctor more holistic and accurate health data.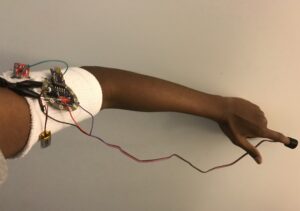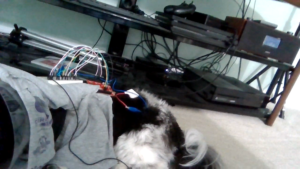 Erwin Golovashkin's final project focused on heat therapy for cats and dogs. Since around 20-25% of cats or dogs are diagnosed with arthritis, he created a dog vest (he used a modified harness) that can heat up and remain cool on the outside and sense body temperature turning on LED lights telling the owner the pet's general temperature.