This article was original published by The Graduate School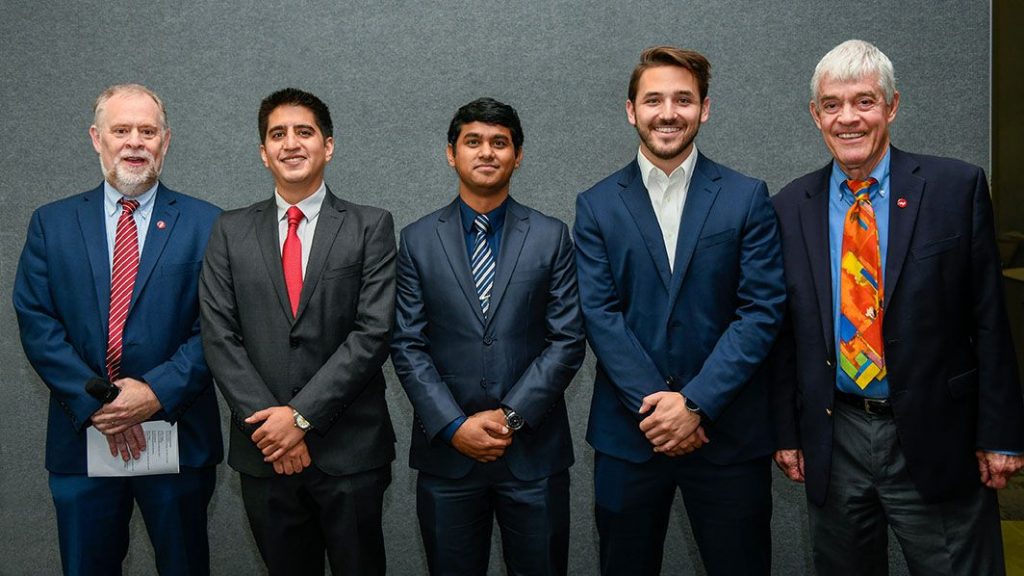 Three students from the College of Engineering were chosen as winners in the Graduate School's fifth annual Three Minute Thesis. The competition challenges graduate students to explain their research to a general audience in just three minutes.
Winners, along with their presentation titles and departments, are:
First place, Hafizul Islam, FEEED the Hungry, industrial and systems engineering
Second place, Francisco Jativa, Sea-ment, civil, construction and environmental engineering
People's Choice winner, Taylor Neumann, From Body Heat to Electricity, chemical and biomolecular engineering
Ten finalists who competed in the event at Hunt Library were chosen from among 25 preliminary contestants. A panel of three judges chose the first- and second-place winners. Audience members voted on the People's Choice winner.
Judges for Wednesday's event were: Steve McCall, business excellence manager with BASF and Ph.D. alumnus from NC State; Bob Starbuck, retired executive with Wyeth Pharmaceutical, who earned two graduate degrees at NC State; and Benny Suggs, associate vice chancellor for alumni relations at NC State and retired admiral with the U.S. Navy.
Tom Stafford, vice chancellor of student affairs emeritus, served as master of ceremonies for the event. Stafford, who is well known for his tours of the Memorial Belltower and Reynolds Coliseum, entertained the audience by asking them questions about NC State University's history between contestants' presentations.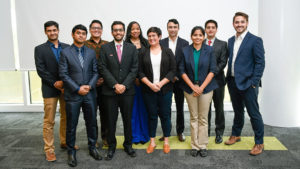 Preliminary rounds were held Oct. 8-10. In addition to Graduate School staff, preliminary judges included Brent Lancaster, College of Engineering; Deirdre Shore, College of Agriculture and Life Sciences; and Sarah Corica, College of Natural Resources.
In addition to the winners, the other finalists, listed by college, were:
Engineering
Parth Chansoria, industrial and systems engineering
Elvin Hossen, civil, construction and environmental engineering
Textiles
Javier Jimenez, textile engineering, chemistry and science
Adhiraj Shinde, thermal protection and comfort center
Agriculture and Life Sciences
Reny Mathew, entomology and plant pathology
Education
Whitney McLaughlin, counselor education
Humanities and Social Sciences