Zero-power fluid extraction for Biochemical Sensors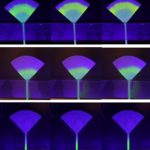 Our ASSIST team has pioneered a unique sweat and interstitial fluid collection technique that can operate over periods of many hours to multiple days by a novel, non-invasive osmotic-capillary method. It does not require any electrical power and can interface with on-device electronic sensors or benchtop assays.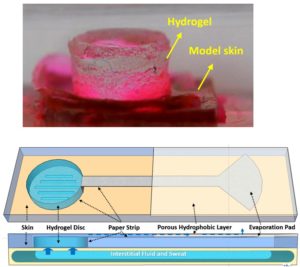 This non-irritating method for sweat sampling does not require the user to actively sweat as it gently extracts sweat from the skin using a hydrogel patch infused with the benign solute.  The extracted sweat is continuously transported toward sensors by simple and reliable paper-based microfluidics. 
The ability to continuously harvest sweat in a non-invasive manner for long-durations is attractive for performing a variety of bio-assays in a non-invasive, user-friendly manner. In addition, the continuously deposited salt film at the evaporation pad preserves a record of analytes that may be used for long- term biomarker monitoring. We have demonstrated the viability of the technique by constructing patches and sensors that can measure human lactate levels over hours, not only during exercise but also at rest. 
Learn more about the researchers involved with this project: