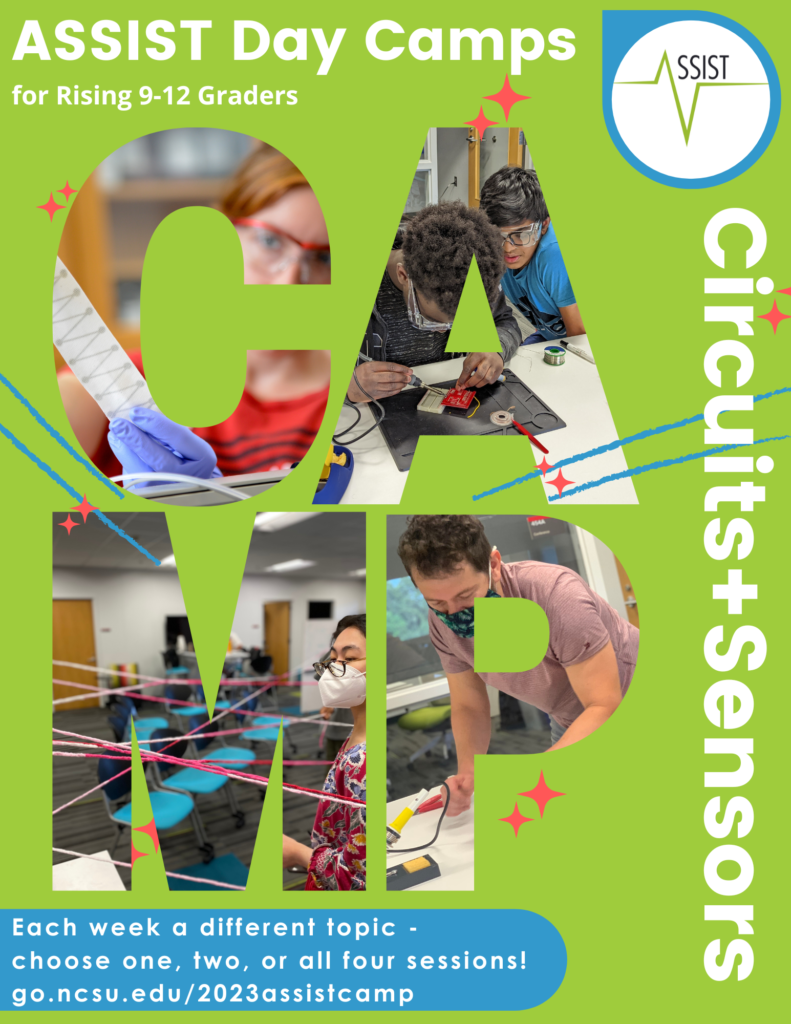 The ASSIST Center at NC State is bringing sensors to life with summer camps for high school students in grades 9-12. NC State faculty will share their research with the students and teach data-gathering and analysis techniques. This summer experience is geared toward students with an interest in computer science and biology.
Following the steps of the Engineering Design Process, students will learn about global One Health issues that affect humans, animals, and the environment and how they can use open-source platforms and simple sensors to detect and mitigate these issues. During the camp, students will experiment and study human physiology and environmental principles using multiple platforms.
Week 1: June 19-23: Introduction to Circuits and Arduino Registration is closed for Week 1.
Week 2: June 26-30: Physiological Sensors Registration is closed for Week 2.
Week 3: July 17-21: Environmental Sensors Registration is closed for Week 3.
Week 4: July 24-28: Engineering Design Process
No experience or specific background is required; just an interest in STEM and wearable devices! Students can register for one or multiple weeks.
Camp includes:
Hands-on experience with sensors, circuits, electronic components
Daily instruction from university professors and specialized secondary school teachers
Tours of world-class laboratories and research facilities/equipment
Seminars from renowned researchers on topics of interest
Opportunity to present projects to family members
Experience on an internationally-ranked university campus
A low teacher:student ratio (approximately 1:7)
Time to bond with like-minded peers
Lunch each day at a university dining facility
A very cool camp T-shirt
Cost: $450 per week of camp; $850 for two weeks; $1600 for all four weeks
Location: NC State University Centennial Campus
Time: 9a-4p Monday-Friday
Space is limited to 20 campers per session, so register early! Acceptances will be communicated on a rolling basis.
Please reach out to ASSIST's Education Director Dr. Elena Veety with subject matter questions, or Events Coordinator Ren Shore with logistical questions.
No payment is required at the time of application. If you are accepted into the camp, you will receive information on next steps and payment methods.
Refund policy: Full refund minus a $25 administrative fee will be provided if participation is canceled prior to the following dates:
May 30, 2023 for Week 1, June 19-23
June 23, 2023 for Week 2, June 26-30
June 23, 2023 for Week 3, July 17-21
June 23, 2023 for Week 4, July 24-28
If participant cancels after these dates, a 50% refund will be issued. If no cancellation is received (no-show), or if a camper is dismissed while camp is in session, no refund will be issued.
Cancellation must be communicated in writing to Ren Shore.